Truckee Railroad Museum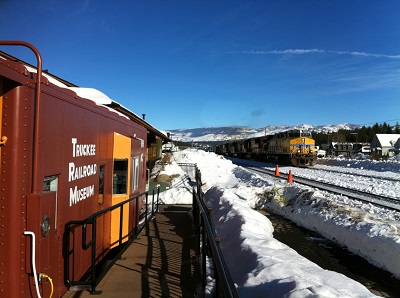 The Truckee Railroad Museum is located in a former Southern Pacific Railroad bay-window caboose next to the historic railroad depot in downtown Truckee. The caboose is representative of those used throughout the Southern Pacific system in the 1950´s through the 1980´s. The caboose is painted in the traditional SP paint scheme of that era.
Inside the museum you will find displays, pictures, railroad artifacts, and interactive presentations depicting the impact of railroads on the history and development of Truckee. There are displays that focus on the First Transcontinental Railroad, logging railroads in the mountains around Truckee, and Tourism by Rail over Donner Pass and the narrow gauge line that ran between Truckee and Tahoe City.
There is also an area that is devoted to a Thomas the Tank Engine/Brio train set that is popular with our younger guests and their families.
The museum is located next to the Union Pacific Overland Route main line which hosts a number of freight trains and the daily Amtrak trains that stop outside the museum´s door.
The museum is open from 10am to 4pm on Saturdays and Sundays throughout the year, depending on the availability of docents.
Admission to the museum is free, but donations are gratefully accepted.

Museum of Truckee History
The Museum of Truckee History, located in the historic Truckee Railroad Depot, is a non-profit collaboration between the Truckee-Donner Historical Society and the Truckee Donner Railroad Society. This museum contains additional exhibits interpreting Truckee´s railroad history. For more information, see the museum´s website.
TDRRS Needs Docents
We depend on volunteers to keep our museums open.
Working as a docent in the Truckee Donner Railroad Society Museum is an opportunity to share information, local history, and experiences with visitors in an informal manner. There are no tests or expectations, just a desire to relate to the visitors and promote the purpose and future plans for the museum. As a docent you will encounter all ages, interest levels, and personalities.
If you are interested in becoming a docent, please contact our museum manager.