The TDRRS maintains a prominent display of railroading equipment next to the Union Pacific mainline in the new Truckee Railyard development. The display consists of former Southern Pacific rotary snow plow SPMW 210 and Southern Pacific Bucyrus Erie steam derrick SPMW 7050 which was used for many years to clean up train wrecks on the Donner Pass line.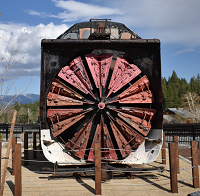 Southern Pacific Rotary Snowplow SPMW 210 was built by the American Locomotive Works (Alco) in Schenectady, NY in 1937 to a Leslie design as SPMW 7210. It was initially steam powered with fuel oil and water supplied by tenders SPMW 7210A and 7210B. In 1957 it was converted to electric power (renumbered to SPMW 210 in April 1962) and stationed in Sparks, NV and Roseville, CA. SPMW 210 was last used to clear snow over Donner Pass in January 1967. It was retired from service in 1983 and relocated to the California State Railroad Museum (CSRM) in Sacramento.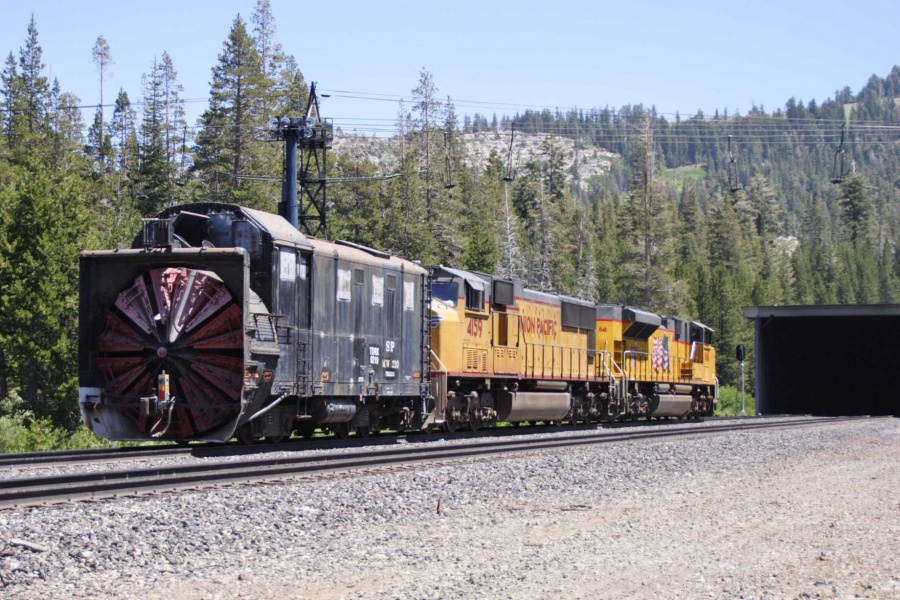 In 2007 the Rotary was donated to TDRRS by the California State Railroad Museum and moved to Truckee by the Union Pacific Railroad without charge. It was moved to its current location in 2018.
During its active service the Rotary was used to clear snow from the SP right of way over Donner Pass, most notably participating in the rescue of The City of San Francisco which became snowbound at Yuba Gap in 1952.
Rotary snow plows have been used for snow fighting throughout the United States, particularly in the Cascades, Sierra Nevada and Rocky Mountains. While they still play a roll in severe snow conditions, they have effectively been replaced by modern spreaders and flangers.
Southern Pacific Steam Derrick - SPMW 7050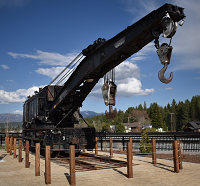 SPMW 7050 is a former Southern Pacific Steam Derrick built in 1930 by Bucyrus-Erie Co. of South Milwaukee, Wisconsin. It was originally numbered SPMW 691 and spent most of its career working on SP's Sacramento and Salt Lake Divisions between Sacramento and Ogden. It was stationed in Carlin, Nevada in the 1960's. In more recent years it was based in Sparks, Nevada. It spent its final years awaiting a call to action in the Truckee yard. Records indicate that its last SP service date was Feb 13, 1988.
The term Derrick was used to describe wrecking cranes; Locomotive Crane or simply Crane was used when describing all other types. They were also referred to as the "Big Hooks" by railroaders. Derricks were used primarily to clean up wrecks but could also be used for heavy construction projects such as bridge building.
Most wrecking derricks had two hoists, the main and the auxiliary. The auxiliary hook, located at the end of the boom, couldn't lift as much as the main hook, but it had a greater reach and was suitable for moving debris and railroad cars. The main hoist was used to drag and lift locomotives back to the roadbed and onto the rails. Cable slings, chains, and spreader bars were used with the main hoist. The main hook itself was never attached directly to the load.
Many steam derricks, including SP 7050, were self-propelled and could move at speeds up to 5 mph. This was used for minor positioning only, not for movement to a job site.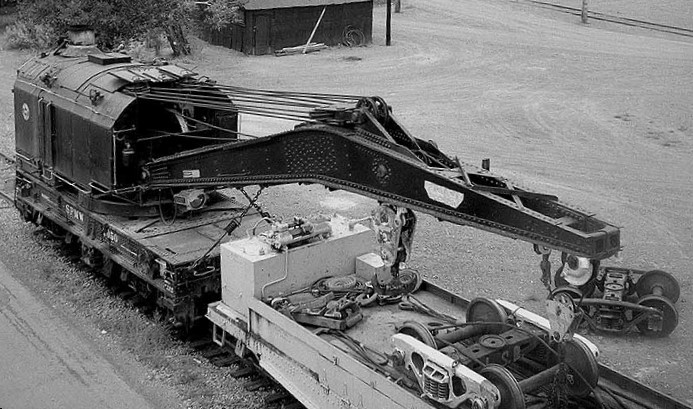 Derricks were paired with special flatcars (boom cars) which accommodated the overhanging boom and provided for storage of extra fuel, spare trucks and other miscellaneous supplies.
Today, most derailments are cleaned up by private contractors using bulldozers and other construction machines delivered to the wreck site by highway. The job of the Big Hook has been taken over by side-boom crawler tractors. Rail-based cranes are only used in remote areas with no road access.
Jim Dobbas Inc. acquired SPMW 7050 in 1998 in a desire to see it preserved and kept from being scrapped. Jim Dobbas Inc. donated SPMW 7050 and boom car SPMW 7051 to the Truckee Donner Railroad Society. It was moved to its current location in 2018 in 2011.
See a Similar SP Steam Derrick in Action
SPMW 7020 was built by Bucyrus-Erie Co. in 1927 and has been preserved by the Western Steam Fiends Association. The following video shows SPMW 7020 operating at Antique Powerland in Brooks, Oregon during the Great Oregon Steam-Up on July 30, 2016.