Trestle Tours
Trestle Tours are guided, self-driven tours of the old railroad lines in the Truckee area. On the tours, you'll see old railroad grades, ties, rail, logging camp sites, and even trestles, collapsed in place. At each stop, your guide will explain what we know about railroad operations in that area and its historical significance. At some stops, there are short hikes along the old railroad grades. Mostly it is an enjoyable few hours in the beautiful Truckee area, exploring and talking about railroads, logging, and local history.
Trestle Tours are free, but donations are greatly appreciated and pre-registration is requested.
Three tours are planned for 2023, but dates are tentative, especially for the June tour due to uncertainty as to when dirt roads and hiking trails will be free of snow.
---
Hobart Estates Driving and Hiking Tour
July 16, 2023
Sierra Nevada Wood & Lumber Company, later known as Hobart Estate, operated a company mill town called Hobart Mills north of Truckee and logged thousands of acres in the Little Truckee River drainage from 1900 to 1936. The company built a network of narrow gauge rails to move rough logs from the forests to the mills, and a standard-gauge railroad called the Hobart Southern to transport lumber from the mill to the transcontinental railroad at Truckee.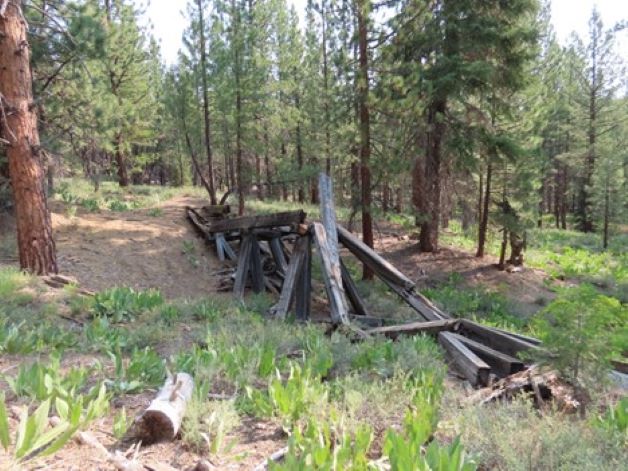 This tour will start at Hobart Mills for an overview of the SNW&L / Hobart Estate lumbering operation and move on to more remote areas where logs were loaded and transported to the mill. Since many of the more interesting sites are deep in the forest, this tour includes quite a bit of hiking and exploring on foot. The railroads were limited to grades of 3-4%, so the trails are usually not steep, but overgrown brush and breaks in the grade where trestles and bridges once stood can make for rugged footing. Plan on doing 3 miles in total, broken up into several shorter hikes.
Some of the driving portions of the tour are on rough dirt roads, so a high-clearance and/or AWD vehicle is recommended. That said, we won't be driving on anything a Subaru can't handle. Bring sunglasses, hat, water, camera, snacks, and lunch - food will not be provided. Sturdy shoes or boots and long pants are recommended. We will distribute a map and will have copies of old photos to examine while we travel. The tour will begin at 8:30 AM at the "pocket park" at the east end of Truckee, where the railroad crane and rotary snowplow are exhibited. Watch this space for further details.
For more information and to sign up, email trestle_tours@tdrrs.org.
---
Boca and Loyalton Railroad Driving Tour
September 23, 2023 (date is confirmed)
The Boca and Loyalton Railroad was built in 1901 to transport lumber and other products from Loyalton and the Sierra Valley to the transcontinental railroad at Boca, about 4 miles east of Truckee. This tour starts at the Boca townsite, just below the Boca Reservoir dam, and follows the route of the railroad over 27 miles of paved and dirt roads to the town of Loyalton. Along the way, we'll discuss the short history of the B&L, its role in developing the early economy of Sierra Valley, and its ultimate demise at the hands of the Western Pacific.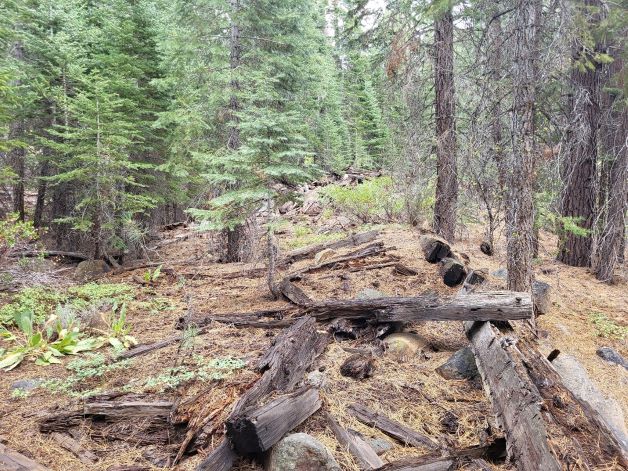 While parts of the B&L are submerged beneath the waters of the Boca and Stampede reservoirs, portions of the old grade can still be seen along the route. We'll see where the B&L connected with the Southern Pacific at Boca, view the old grade along the Little Truckee River below Stampede Dam, see how the B&L grade was crossed by Verdi Lumber tracks and reused by Hobart Estates narrow-gauge in Sardine Valley, and explore well-preserved grade and a trestle where the B&L climbed out of Sardine Valley to a low pass across the Sierra Divide. From the divide, we'll follow the grade down Smithneck Creek, stopping at the site of the Lewis Mill and at Loyalton Rotary Park, where the old grade has been converted into a hiking/biking trail. We'll end the trip in Loyalton, where the B&L tracks remain along Railroad Ave. We'll wrap up the tour with a visit to the Milton Gotardi Museum, which has further information and artifacts from the B&L and an O-scale model railroad of Loyalton in the early 1900s.
This is a "self-driven" adventure, with a mix of paved roads, gravel/dirt roads, and short off-trail walks in the woods. A 4WD or AWD high-clearance vehicle is recommended, but we won't drive on anything not navigable by a Subaru. We recommend comfortable, layered clothing and sturdy shoes or boots. This trip usually takes from 4-6 hours, depending on road conditions, questions, photo opportunities, RR discussions, wildflowers, serendipitous finds, etc., and is never the same twice.
Bring sunglasses, hat, water, your camera, snacks, and lunch - food will not be provided. We will distribute a map and will have copies of old photos to examine while we travel. We will meet and begin the tour at 8:30 AM in the parking lot for the Boca Townsite Trail, in Boca.
For more information and to sign up, email trestle_tours@tdrrs.org.
---
Verdi Lumber Tour & Exploration
October 1, 2023 (date is confirmed)
The Verdi Lumber Company built a standard gauge logging railroad from its mill and box factory in Verdi to Dog Valley around 1900 and expanded into adjoining valleys to the north and west in the subsequent two decades. Over a 25-year period, Verdi Lumber cut over 14,000 acres in eastern Sierra County.
This tour starts in Verdi at the site of the Verdi Lumber mill, then heads up the hill to Dog Valley. We'll explore the area around the Lazy Station logging camp at the north end of the valley, then take a 3 mile, mostly flat hike on a logging grade to see remnants of a wye, remnants of logging camp buildings, a spur where logs were cut and loaded, and a five-legged switchback. Back in our vehicles, we'll head south following the old railroad grade over Second Summit and the Henness Pass emigrant route, down into Sardine Valley where the Verdi tracks crossed those of the B&L and Hobart lines. The tour will end at the paved Stampede Dam Road, which takes you back to I-80 at Boca.
Due to its greater distance from Truckee, rougher roads, and its sketchier historical record, the Verdi Lumber tour is more of a work in progress and an exploration than the other trestle tours. A high clearance vehicle is required, 4WD is recommended, and a sense of adventure and schedule flexibility is essential. As with the other tours, you'll want layered clothing, sturdy hiking footwear, sunglasses, hat, water, camera, lunch, and snacks.
For more information and to sign up, email trestle_tours@tdrrs.org.